Don't Miss the Prepared for the Peak™ Newsletter add postpeakliving.com to your address book!
Prepared for the Peak for May 9, 2012
WHAT'S IN THIS ISSUE
Why Am I Talking About Nutrition? • Big Picture • Financial • Practical Preparation • Environmental News • Health
WHY AM I TALKING ABOUT NUTRITION?
Since people are joining the newsletter all the time and others may have missed the initial discussion, I'm going to take a bit of time to explain why nutrition is going to matter so much as the current system goes away.
There are two reasons. First, the way most people are eating is helping to cause an epidemic of obesity and diabetes. After a great deal of research, I believe that the conventional low-fat diet is the primary (but far from only) cause of this situation. Many people will tell you it's simply a matter of people eating too much and not exercising enough. This is far from the whole story, as I've begun to explain. Many people are actively disrupting two critical hormones, insulin and leptin, and this is helping make us fat and sick. Being fat and sick as the current healthcare system winds down will bring people a lot of unnecessary misery. We have enough on our plates already.
The second reason is because I'm personally interested in the topic. I had some weight to lose and, now being in my 40's, I thought it best to get interested in my longterm health.
Most people have seen the staggering statistics on obesity. It's not just in the Western nations anymore. Developing countries used to be concerned only about hunger but in the late 90's the World Health Organization reported that there were more obese people than malnurished people in developing countries.
And diabetes is on the rise because obesity and diabetes are closely linked: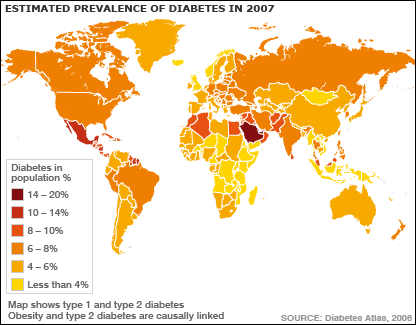 Many of us getting ready for a contracting economy are planning what kinds of foods to store for emergencies as well as the kinds of foods we will eat outside of emergencies. Before doing my research, I thought that I would be able to get by on grains with a bit of protein from meat. Now I've come to the conclusion that this is not the healthiest diet for the long term.
I've concluded that the healthiest diet for humans, based on clinical evidence like the Stanford A to Z study I linked to in the last newsletter and on studies of hunter-gatherer societies, is one that is low in carbohydrates, low in protein and high in healthy fat. The ratio would be something like 20% carbohydrates, 20% protein and 60% fat.
This, of course, is almost exactly opposite of how we are currently being told to eat. How we got to this incorrect view (low fat, high carbohydrate) was pieced together by Gary Taubes in his books Why We Get Fat and What to Do About It and Good Calories, Bad Calories. I will do my best to explain the story in the newsletter but there is a tremendous amount of material to discuss. It's just not quick to explain, for instance, how saturated fat got incorrectly demonized, though I will cover that in the future.
At least many people are now aware that refined grains are terrible because they spike insulin. Continued spiking of insulin eventualy wears out the insulin receptors and that leads to increasing fat accumulation and many of the diseases of civilization. (I'll cover leptin resistance in the future.)
Unfortunately, many people who understand that refined grains aren't healthy think that intact grains are healthy, but they are missing the whole story. Before continuing, it's import to distinguish between whole grains and intact grains.
Whole Grain vs. Intact Grain
Whole grain includes the outer shell of the grain, the bran, but "whole" does not mean "intact." The grain can still be processed or unprocessed. For instance, whole grain bread is still made of flour, which is a processed grain, but the bran wasn't removed before the flour was made. Whole wheat flour and white flour have extremely high glycemic indexes because they were processed.
Thus, absolutely people can eat "intact grain" and the GI (glycemic index) will be lower but most of the world eats their grains in some sort of powdered (flour) or other processed form, in some cases cracked or rolled, as in rolled oats. Neither of which are in their intact form.
It's good not to continually spike blood sugar but there's more.
The glucose that makes up the starch in wheat and other grains still reacts and produces glycation, hormonal responses (insulin and leptin resistance) and epigenetic expression. So far I've focussed only on the glycemic response but there are actually two variables to track:
1. how high of a spike does the food cause (the GI)? and
2. how much glucose is going through the system in total?
When people focus on GI it's like saying that they are looking at how high a car's engine revs. If it is brought to 10,000 rpm too many times, the engine burns out quickly. But it's also important how much the engine is asked to work over time and an engine that operates at 5000 rpm will wear out before one that operates at 2000 rpm.
When a person eats carbohydrates, it's like getting the body's engine to rev higher. So, biochemically, the more glucose one eats the more damage one causes (via glycation). In societies without a great deal of spare calories and lots of manual labor, like many Asian countries in the past (but not now), this damage was tolerable. For many of us, who already have damaged metabolisms from eating too many refined carbohydrates, the extra carbohydrates still contribute to weight gain and molecular damage (glycation).
Should you cut out grains completely? Many people do but the best general answer seems to be: "reduce grain consumption significantly, especially if you are attempting to lose weight; get most of your carbohydrates from fibrous vegetables that are nutrient dense."
In the next newsletter, I'll look at how you can change from being a sugar burner (i.e. dependent on carbohydrates for energy) to a fat burner and some of the benefits of doing that.
Energy Supplies and Climate Policy | The Oil Drum, May 7, 2012
Dr. Rutledge, from Caltech, presents his updated numbers on how much coal is left in the world. His numbers generally accord with those from the Uppsala Global Energy Systems Group. The bottom line: there is a lot less than most people think. This has important implication to climate policy. Highly recommended.
Is Coal Doomed? | The Atlantic, April 27, 2012
The Peak Oil Crisis: Implications | Falls Church News-Press, May 2, 2012
Peak Oil: Top 11 FAQs | Post Carbon Institute, May 2, 2012
Democracy's Arc | The Archdruid Report, May 2, 2012
There Are 100 Million Working Age Americans That Do Not Have Jobs | The Economic Collapse, May 3, 2012
Future Economy, Future Stability, Future Careers | Of Two Minds, May 3, 2012
Gross Says U.S. Economy Suffering From 'Structural' Unemployment | Bloomberg, May 4, 2012
The Oil Industry's Deceitful Promise of American Energy Independence | Scitizen, May 4, 2012
Bracing for Demographic Winter: The "Overpopulation Crisis" | Global Research, May 5, 2012
Shale Gas: The View from Russia | Club Orlov, May 8, 2012
Why the Job Market Will Continue Shrinking | Of Two Minds, May 8, 2012
How US debt risks dollar doomsday | New York Post, April 30, 2012
We Are Not Powerless: Resisting Financial Feudalism | Of Two Minds, May 2, 2012
No Economic Recovery in the US | Global Research, May 2, 2012
Baby Boomers' Money Troubles: They're Worse Than We Thought | Daily Finance, May 2, 2012
Is Constant Economic Growth Possible? | Oil Price, May 2, 2012
Hugh Hendry On Europe "You Can't Make Up How Bad It Is" | Zero Hedge, May 2, 2012
The Crisis of Student Debt in America | Global Research, May 3, 2012
Forget Retirement... and Retirement Savings | Lew Rockwell, May 3, 2012
Alasdair Macleod: Why The Europe Situation is Certain to Get Worse | Chris Martenson, May 4, 2012
Where Do We Go From Here? | Economix, May 4, 2012
The Fraud and Theft Will Continue Until Morale Improves | The Burning Platform, May 7, 2012
Economic Austerity in America: The Portland Community Begins to Fight Austerity | Global Research, May 7, 2012
How Can Primitive Living Skills Help Me Survive? (Video) | Heartroot Nature Connection, April 24, 2012
Local Dollars, Local Sense: The Hidden Power of Cooperatives | Post Carbon Institute, April 27, 2012
Some Handy Kitchen Hints | Preparedness Advice Blog, May 1, 2012
Asthma Attack Without an Inhaler: 9 Steps That Could Save Your Life | The Survival Doctor, May 3, 2012
A Beginner's Guide to Buying Silver on eBay | Survival Blog, May 3, 2012
Recipe of the Week: Venison Jerky | Survival Blog, May 4, 2012
How To Dry Shampoo Your Hair to Save Water | The Survival Mom, May 4, 2012
Stormproof Matches by UCO | Preparedness Advice Blog, May 5, 2012
Cure and simple: How to make your own bacon and charcuterie | Grist, May 5, 2012
Rethinking Generators | Preparedness Advice Blog, May 8, 2012
'Warming Hole' Delayed Climate Change Over Eastern United States | Science Daily, April 26, 2012
New Study Predicts Frack Fluids Can Migrate to Aquifers Within Years | ProPublica, May 1, 2012
Thunderstorms and the Upper Atmosphere | Environmental News Network, May 2, 2012
Sea-Level Rises 'May Not Be as High as Worst-Case Scenarios Have Predicted' | Climate Desk, May 3, 2012
Scientists: Extinctions Just as Damaging as Climate Change | Climate Desk, May 3, 2012
'Hug The Monster': Why So Many Climate Scientists Have Stopped Downplaying the Climate Threat | Think Progress, May 7, 2012
Why We Don't Walk Anymore (plus a Primal Health Challenge) | Mark's Daily Apple, May 1, 2012
5 Primal Superfoods for Fertility and Pregnancy | Mark's Daily Apple, May 2, 2012
Answers To Your Paleo Diet Burning Budget Questions | Robb Wolf, May 2, 2012
Whey'ing In: Are Protein Powders Paleo? | Robb Wolf, May 3, 2012
Some Cases of Obesity Linked to Urban Air Pollution | AllGov, May 3, 2012
Is It Primal? — 10 Foods Scrutinized | Mark's Daily Apple, May 3, 2012
We want paleo in our local restaurants | Robb Wolf, May 5, 2012
Recipe: Tender Lemon-Parsley Brisket | Mark's Daily Apple, May 5, 2012
Night Eating Syndrome | Mark's Daily Apple, May 7, 2012
Why We Don't Sprint Anymore (plus a Primal Health Challenge) | Mark's Daily Apple, May 8, 2012
Did you get this email from a friend? Sign up for future issues of our newsletter here.
www.PostPeakLiving.com
For Written Inquiries:
Post Peak Living LLC
743B Portola Street
San Francisco, CA 94129
Privacy Policy:
Find out how important
your privacy is important to us.
Read our Privacy Policy
Copyright Information:
Copyright (c) 2012 Post Peak Industries LLC. All Rights Reserved. Post Peak Living, Prepared for the Peak and the Post Peak Living logo are trademarks and service marks of Post Peak Industries LLC. All other trademarks and registered trademarks are the property of their respective owners.